A Melodious, Hearty, Meaningful Interview with JOSIE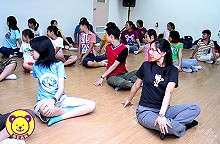 On a sunny Saturday afternoon, lively music and beautiful children voices danced melodiously from the Bear's Children Choir studio room to the corridors. Josie is practicing songs and dances happily with the choir members. They are having their regular lessons here in the studio. These active boys and girls have a busy yearly schedule packed with performances in television programmes, cultural centers, concerts, charity shows and musicals etc. Their work doesn't end here, they also produce their own soundtracks and VCDs, topping the nursery-rhyme records market in Hong Kong every year. Bear's Children Choir might be the only choir in the city, which specializes in producing music for young kids. And the music commissioner of the choir is Josie---the focus of our interview.
Superwoman? a lyrics composer, a playwright, a director, an editor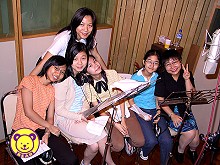 Josie is a lyrics composer, a playwright, a director, an editor, (a superwoman) etc. etc., possessing awesome talents as far as you can name. She treasures her young choir members one by one inside her heart. Josie is not only a loving teacher to them, but also an understanding friend, who shares their joys and sadness whenever in ups or downs. In case you do not know, they even call her closely by the name of "Mom"!

Keys to sucess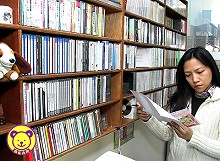 Most people may always wonder what are the "keys to success" for the successful people. For Josie, it was no extraordinary. As a little girl, Josie had already had great interest in music. It is a gift to her and she's born with it. She always ran close to the radio in her home, turn on the large knobs, and listen enjoyingly to a variety of music in English, Putonghua, and Cantonese. In secondary school, she became an active member of the choir and formed the Folk Song Ensemble. At the same time, she started her try out in composing lyrics when she attended the church. Of course, everything is hard at the beginning and perfection's rare, and so are Josie's first few compositions. She mentioned, "I am not afraid of trying out new things. I keep trying and focusing till I find my ideal interest. At that time, a great sense of motivation deep inside me encourages me to develop my interest--music, as a career, and that'show it all started." Not many of her choir members may know that Josie actually started her job as a secretary in a records company. She handles administrative work mainly, and one of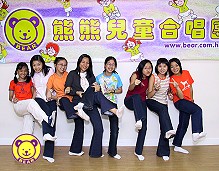 her tasks is to hurry up the progress of both songs and lyrics composers. Once in a very coincident chance, a lyrics composer couldn't finish his work long after the deadline. Her boss had no idea of what to do, but he knew that Josie could compose, so he gave her this chance to finish the lyrics for the song. And what's more coincident in this coincidence, it was a song for children. " At that moment, I felt an alarm has waken me, it reminded me that I have abandoned my interest for long, and perhaps I would like to go back to it, or even make it my long-term career." From then on, she started her own business, and became one of the pioneers in the children's music field.

In addition, she would like to express a message through our magazine to youngsters nowadays, that finding one's own interest is very important, since she had met with quite a lot difficulties and wasted time during the change-over from administrative work to music production work. "It seemed like walking through a large, large circle, and then going back to the beginning again." She smiled as she sentiments her past days.
"Mom"isn't really that easy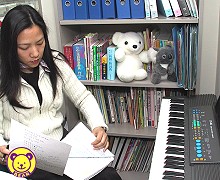 When asked of her job and workload, Josie familiarly listed out her busy schedule. As I listened, I was quite astonished. She had to attend to various jobs of the choir and the company, both big and small, enormous and tiny. Her work isn't easy. For example, participating in producing language-learning materials, teaching aids for kids, original soundtracks of the choir, composing the songs and lyrics, manufacturing the CD, designing the cover and the booklet, editing the monthly "Bear's Music Issues" etc. But, keep in mind that the word "produce" in here, means starting every thing from "0" by herself. "That was a real lot," she said. " I also like to write scripts and musicals for the children to perform." She especially encourages children to perform in musicals. Since she thinks that they are the ideal way to fully develop their artistic skills. Children need to manage singing, dancing, as well as acting in a musical. What's more to it, is that it could train and build up their characters well. She will also spend some time every Saturday during lessons, to chat with the children or listen to them. By this, she could understand them more, and obtain inspiration for lyrics-composing. Being a "Mom" isn't really that easy. There is one Chinese saying which says," The Able does More", and Josie is a very good example.

" I will eat."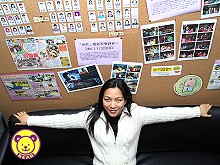 By reviewing the experiences from her work, she concluded." Time, is short. But believe it you can do quite a lot of things, by 'stealing' it bit by bit from places where they are easily wasted. The most important thing is that, you know how to manage your time well when you are busy. Also, don't try to set a goal far too high for yourself to reach, do the things before you first." As Josie is busy person and doesn't have much time, I am interested in knowing her method of reducing pressure. Josie grinned happily and said," I will eat." (What a coincidence, me too!)

ABC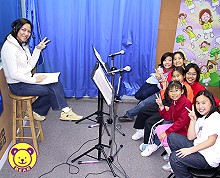 As a children music producer, Josie said that this industry is not yet familiar with most of the Hong Kong people. In this economic-based society, few mass media would focus on the needs and upbringing of children. The quality of songs for children in Hong Kong is uneven, some are what the children really need, some are just for the sake of business. " In foreign countries, musicians who compose and sing children songs might even be as famous as a Superstar. But in Hong Kong, it is still impossible at the moment." she said. Many people may think that these songs are useless, and are only for little kids to learn their ABCs. "Actually, for nursery rhymes, story songs etc. Yes. You may call them 'songs for children', but in the world of music, there is no limit of age. If you feel you can relax, you can be happy, you can be as light as a cloud floating in the sky, you can find your own dreams, that is a kind of good music."

GOALS?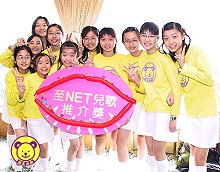 Bear's Children Choir is renowned for making educational music for children, teaching them moral concepts and telling them stories through songs of different languages. They have even captured many awards in story-telling competitions, television prize presentations, etc. So what are Josie's and their long term goals? It is to create more of their original songs, bringing Bear's Children Choir's voice to more places; and performing musical performances of their own, bringing a new era of children art to Hong Kong." As for me, I would continue to work hard in my career of music." Said Josie.

By : Bear Children's Choir - Teresa Lau (Big Bear)2001.11.12